About
Healthcare Solutions Network is a clinically integrated network that serves the Tri-State region. It is a unique partnership formed in March 2014 that brings together the physicians and hospitals of St. Elizabeth Healthcare and TriHealth – both of which are nationally recognized health systems. Along with the independent physician members that partner with the physician hospital organizations of each health system, Healthcare Solutions Network offers 1,600+ providers and 10 hospitals to serve the tri-state region.
Through its partners, Healthcare Solutions Network provides high quality, individually tailored and coordinated care to patients in Ohio, Kentucky and Indiana. It also seeks to:
Improve the quality of and access to care while controlling the overall cost for patients and populations served by the participating providers on the network;
Population health management: Develop programs to help manage the health of large patient groups through a single clinical network that offers additional value for patients;
Integrated network: Create a single network to enable employed physicians, independent physicians and hospitals to align to improve quality and outcomes under a common infrastructure; and
Clinical services: Coordinate select services to facilitate adoption of best practices, improve quality access at patient and population levels, and provide more efficient use of healthcare resources.
Learn more about each health system here:
Mission, Vision, and Value Proposition
Mission: Improve the health of our community by providing higher quality of care with a better patient experience at lower cost.
Vision: Become the region's high-value delivery network by achieving top quartile performance.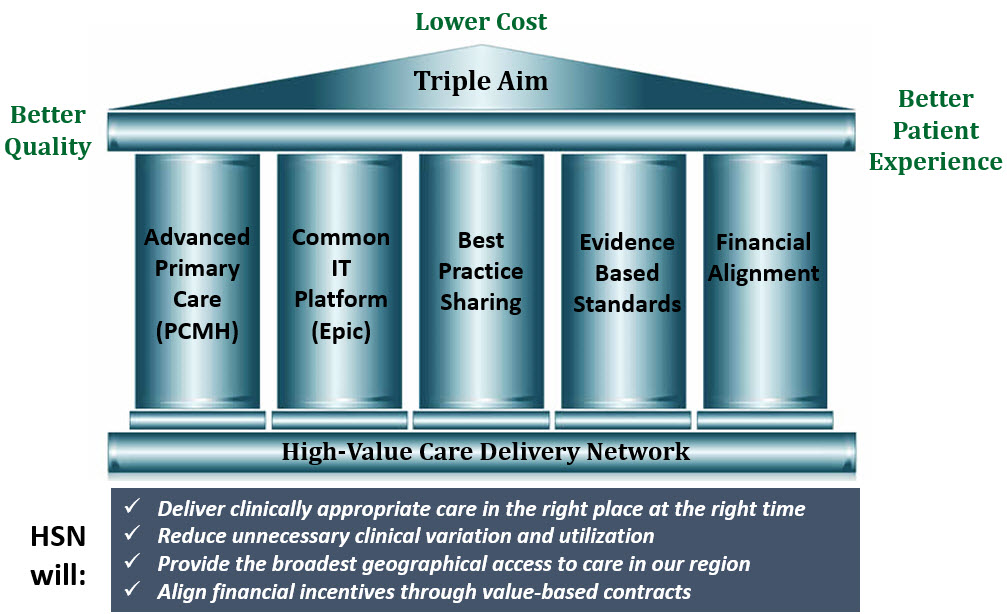 History of Collaboration
St. Elizabeth and TriHealth have a history of previous collaboration efforts, including programs such as insurance plans to access specialist physician services. They also jointly own Tri-State Healthcare Laundry, formed in 1989 to serve the laundry needs of the two health systems.
In addition, St. Elizabeth and TriHealth have previously worked together to coordinate support services for the Comprehensive Primary Care Initiative pilot awarded to the Greater Cincinnati/Dayton region by Centers for Medicare and Medicaid Innovation Services. The healthcare systems together accounted for nearly half of the region's Comprehensive Primary Care Initiative practices. The $60 million pilot studied innovations in primary care delivery and payment models and began in 2012.